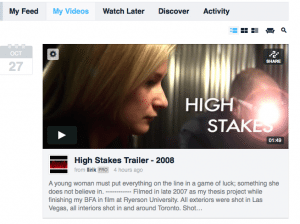 Slowly but surely, I'm getting plenty of videos online. The goal is to have everything that's a personal project on vimeo, and then everything that is work-related on the client's respected channels. At the moment, the majority of my personal projects are online, and you'll be able to find them in the portfolio or at the earlier link.
Corporate films will be a bit trickier, as some clients have multiple ones for the same campaign, and I don't think it's completely necessary to link each video. What I will most likely do, however, is put all relevant ones in a single campaign on its own page.
I will also refrain from putting up every photo or song that I have uploaded to 500px and sound cloud, respectively. As you can imagine, the amount of work done over the years is quite great, so it's best to keep it simpler here and not have this site be a complete maze.